Codexonics Limited is committed to provide the best possible support to any users by any means possible for the following products:
Please read below to understand the extent and responsibility of our support:
We provide support channels only by email (via this site contact form) or Prime Mover users with active license.
For free users, they can use contact form of the website to report bugs containing sensitive details (security issues or submit bug logs). We allow this than posting details publicly on support forums which the client might not want.
Normally if you have presale questions you can either ask via our contact form (for sensitive questions) or ask it publicly here.
In case to case basis, we might ask client to share screens in order resolved issue with Prime Mover or to diagnose server problems that prevents the problem to work properly. This is usually done via Skype, Zoom or Google hangout. So you are chatting directly with our technical support. We offer this support only to Pro users or active FREE Trial users.
For pro-users (users with active license or in active FREE trial), we might need access to your site (SSH, FTP, or WordPress login). We only use this login for troubleshooting purposes and you should revoke the login as soon as the issue is resolved.
By contacting us for support – you are solely responsible for keeping your email inbox fully working. If in doubt – test it to make sure it can send and receive emails if you are sending critical email to us. Otherwise if your email is not working – you will never read our replies.
Scope of support
Any Prime Mover related issues.
Offer suggestions , technical solution to server problems that prevents Prime Mover to work properly.
We don't support third-party plugins or troubleshoot third party issues, or troubleshoot server issues. Please contact their own vendor support.
We don't fix MySQL or any server related issues. We can only provide tips and solutions. It is not advisable to share server/database root logins with anyone! Please forward any of our advice to your server or hosting System administrator.
We don't fix any domain registrar or DNS related issues. This is now beyond WordPress and Prime Mover. In this case – please get in touch with the person in charge for your domain.
We don't fix any multisite setup issues – in this case please get in touch with your website developer in-charge of setting up your multisite.
We cannot provide technical support to a malware infected site. In this case – please make sure your site is safe first before tech support can enter your site. The easiest way to tell if when we are not getting "Deceptive sites ahead" error in Chrome or other browsers. Please contact your system administrator or hire a security professional to clean your site malware issue.
We offer support normally 7 days a week via email (including Saturday and Sunday) or in WordPress support forums.
Our usual support time is around 8 am to 6 pm Philippines time.
We are only online in Skype or other chat channels by special request by client (to share screens to resolve Prime Mover related issue).
We should be able to answer any questions within hours. Usually within 48 hours.
There are times when support is on vacation which means reply can take longer but we will notify this publicly below. When on vacation, we will try our best to answer within 48 hours if we can find connection. But rest assured we can answer any questions within 5 days.
Support is on vacation?
Not in vacation 🙂
Refund policy
Direct purchases and upgrades
You are fully protected by our 100% Satisfaction Guarantee. If over the next 30 days you are unhappy with our plugin or have an issue that we are unable to resolve, we'll happily consider offering a 100% refund of your money.
Once we receive a refund request within the valid refund period due to one of the following reasons:
The plugin isn't working as expected (with explanation).
Missing feature(s).
Technical issue (including conflicts with other plugins and/or themes).
We will do our best to resolve the issue or find a workaround. If we can't resolve it, we will process a refund.
Note: Customers who just changed their mind or can't provide a reasonable explanation for the refund inquiry are not covered by the refund policy and will not be eligible for a refund.
In case of double purchases, both must be verified paid purchases (not any of them is trial). We will only refund the lower license plan – in cases where the same customer purchases both single-site and multisite plans.
If you are considering upgrading to a PRO version but still have some doubts, please avail our 14-day risk-free trial. This way you can evaluate the plugin's PRO features at no risk. You can also request PRO technical support within your FREE trial period.
Purchases after 14-day FREE Trial
Note: Successful payment after a 14-day FREE trial is not subject to a refund.
By availing FREE trial – you acknowledge that you will be charged at the end of the 14-day trial period.
Important: Freemius Inc. will charge you 24 hours before your trial expires. To make sure you don't get charged – you should cancel the free trial anytime within the first 13 days.
With regard to the license expiration – when a trial subscription is created, we automatically extend the license's expiration to some hours after the trial period's end so that in case the processing of the payment is delayed (for example, at the gateway level), the license won't expire before the payment is processed. So in this case, because of the extra hours that were added to the license's expiration, the payment was processed hours before the license's expiration (i.e., it's not a premature payment).
IMPORTANT: please take note of these important dates when you receive your TRIAL email. (Dates shown below are examples only – refer to your trial email for actual dates)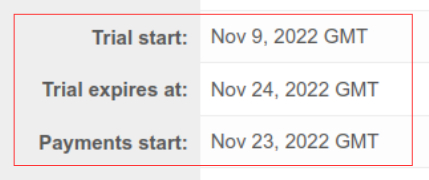 TRIAL EXPIRES AT: This is the trial license expiration date. This goes beyond the 14-day trial period -as explained above we extend the license expiration some hours after November 23, 2022 – so its November 24, 2022 (in the above example). This is to give time to payment processor to completely process the payment.
PAYMENT STARTS: This is the actual end of your 14-day trial period which is November 23, 2022 (in the example). This is the date where you will be charged. Note this is not a premature payment because this takes place at the end of your 14-day trial.
IMPORTANT: You must cancel your FREE trial before the payment start date so you cannot be charged. This is the case where you don't want to use PRO features beyond the 14-day trial period.
Forgetting to cancel the FREE trial because you are unable to read a trial expiration reminder (or bounced email) is not a valid reason for a refund. Please double-check that you have a fully working email before you start the trial.
Make sure to add yourself some reminders to cancel your trial before the 14th day to avoid charging.
Please cancel the trial inside your Freemius account if you wish to cancel it. You should receive your Freemius login account information when you signup for the FREE trial. Contact us if you don't receive any of these emails.
Contact us immediately before your trial payment start date (before the 14th day) if you are unable to cancel the FREE trial by yourself or have difficulties canceling it. Technical support will cancel the FREE trial for you.
IMPORTANT: If you subscribe for a trial with a payment method, Freemius will attempt to send you an email reminder two (2) days before the trial expiration, giving you enough time to cancel the trial. Such a reminder would only be a courtesy, and depends on your email client, potentially can end up at your spam box, so do not rely on that email – you alone are responsible for taking any action before a the trial expires. Just add yourself a calendar reminder 🙂
Automatic and manual renewal subscription purchases
By enabling automatic renewals – you acknowledge that you will be charged automatically (annually).
Note: Successful automatic or manual renewal subscription payment is not subject to refund.
You should cancel your automatic renewal within one year so you cannot be charged automatically.
You should not manually renew your subscription if you don't wish to continue using the PRO version.
Forgetting to cancel automatic renewal is not a valid reason for a refund.
Please cancel the automatic renewal inside your Freemius account if you wish to cancel it. Contact us immediately before your subscription ends if you are unable to cancel the automatic renewal by yourself or have difficulties canceling it. Technical support will cancel the automatic renewal for you.
===========================================================
Please read the refund policy details here.