Change log
= 1.2.9 =
Fixed: Usability issues with using free and PRO version in multisites.
Fixed: Require minimum PHP version to PHP 7.0 when using PRO version.
Fixed: Compatibility with WordPress 5.7.
Fixed: Out of memory error when downloading packages in Windows server.
Fixed: Packages not auto-updating when changing markup.
Fixed: Core functionality errors when using limited license in multisites.
Fixed: PRO features not being correctly implemented in multisites.
Usability: Improve UX for easier use in desktopa and mobile devices.
Using single-site license in multisite
Before it is not advisable to use single-site license in multisite because some features won't work or Prime Mover will not work properly. Prime Mover 1.2.9 sorted all these limitations. You can now use single-site license in a WordPress multisite.
The reason this is allowed is the way Freemius licensing works. In Freemius licensing mechanism, one active license (this is called single-site license) count as 1 for WordPress single-site OR 1 for a one subsite in a multistie.
Therefore, if you activate a single-site license in multisite, it is handled just like any one-site license . You are simply ask what site you want the license to be activated. It can be your multisite main site, or any of your subsites.
But since it is a single-site license, PRO features will only work on that one site in your multisite. The rest of the sites will operate just like using FREE version. This means that all features of Prime Mover PRO like encryption, remote URL feature, exclude media files/plugins, etc. will only work for that one site in your multisite that you have license activated.
If you found out that you need PRO features to extend on your other subsites, then this is the good time to upgrade so you can activate more sites to use PRO features.
UX Improvement – easily distinguish PRO site and site using FREE license
Before it is impossible to distinguish which subsite in your multisite is using Prime Mover license. This is how it looks like in network sites: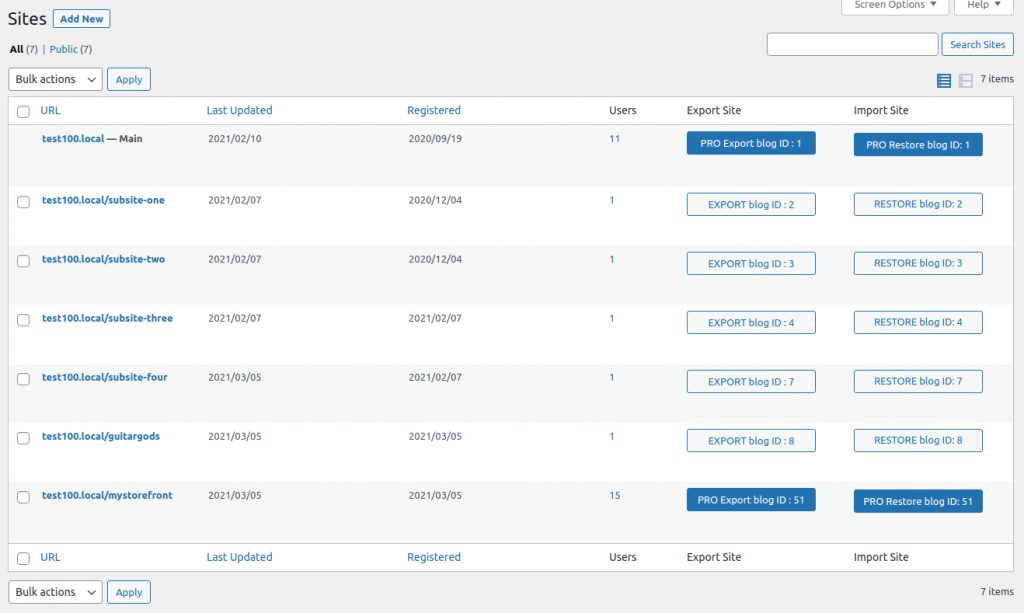 Export and restore buttons are now large as compared before. And subsites using PRO license are clearly indicated.
Same is true in export and restore dialogs. The heading for these dialogs are indicated whether PRO license is active. This is also implemented in package manager.
WordPress 5.7 compatibility and PHP 7.0 minimum requirement for PRO
Prime Mover 1.2.9 is fully tested with WordPress 5.7 including multisites and single-site configurations. No issues found.
Take note that due to updated library being used with the PRO versions, it now requires at least PHP 7.0 to work.
If you plan to use PRO versions, this won't activate anymore if you are using PHP 5.6. Make sure you update your server to at least PHP 7.0. This is also security and performance reasons.
Bug fixes
Several of PRO customers purchasing single site license in the past but used this in multisite will experience a lot of issues. The following are known issues that are now fixed with version 1.2.9:
Unable to download package after export.
Unable to download package in package manager.
Subsites that are not using PRO license will encryption checkbox/Dropbox and Gdrive export enabled.
PRO features works for subsites that don't have license, however since this is bug – won't work properly.
Remote URL feature won't work properly because copy restore URL is allowed but don't have true license activated.
Contact for suggestions and reporting bugs
Prime Mover 1.2.9 is just another step forward in the plugin quest for perfection. It may still not be perfect and we need your feedback. It can be bugs, usability issue or any annoying issues you've found while using the plugin. We will be very happy to hear it and fixed it in the future releases.