Scope: Prime Mover Free / Pro version
IMPORTANT : If you are using Prime Mover Pro for the first-time , please read this get started guide first.
This tutorial applies for both Prime Mover Free and Pro Version. This teach you how to migrate your WordPress multisite sub-site installation to single-site installation. The target site installation could reside in a different server or your localhost.
Exporting a package
Install the latest version of Prime Mover plugin.
Login as network administrator and network activate.
Optionally opt-in to Freemius notifications.
Go to Network Sites.
Search the sub-site that you would like to export.
Select appropriate export options.
Make sure Export to single-site format is checked.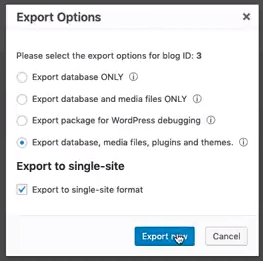 Click Export Now. Wait until the export process is completed. Do not close or refresh the window.
Restore package in single-site
In the target site, reset the WordPress database so it became like a fresh WordPress installation. You can use plugin like WordPress Reset to do this. Take note that this deletes the target site database, make a backup if this is still useful to you.
Optionally you can clear the uploads directory so it the old and new media files will not be mixed.
Activate latest version of Prime Mover plugin. This should be exactly same version as the one used in your multisite.
Optionally opt-in to Freemius notifications.
Go to Tools – Migration Tools.
Click Import button.
Browse to the exported package to upload it.
Prime Mover analyzes the package and needs confirmation from you to proceed.
Once the import started, there is no going back. You need to wait until this process is completed.
Optionally you need to re-save permalinks if needed to resolved 404 errors on some pages (if you see it).
Was this article helpful?