Overview
Deactivating licenses is sometimes needed for the following:
You want to free license usage so you can transfer/activate the license to your other sites.
You want to temporarily deactivate licenses for troubleshooting purposes.
You want to deactivate license as part of the license reset process.
Deactivate licenses in all sites in one click
In this method – you can deactivate licenses in all sites in just one click, this is useful if you want to reset the license usage:
Login to your Freemius account.
Go to "Licenses" tab.
Click the red "Deactivate" link. It looks like this:

It will ask for confirmation – so just click "Yes, deactivate license" to proceed.
This will deactivate the license in all sites. For example in the above screenshot – the account uses 4-sites license. So after license deactivation – the "ACTIVATIONS" column will become "0 out of 4". This means there are no more active sites using the license key.
Deactivate license in just one site
Sometimes you only want to deactivate license in one site. This is useful if the license key is currently activated in many sites and you only want to free license usage for one site.
Login to your Freemius account.
Click "Websites" tab.
It will list all sites registered with Freemius. NOTE: The site with active license has license key value in the "LICENSE"column and it will be labeled "Pro" under "PLAN" column.
Supposing you want to deactivate license in one site only (e.g. grizzlybear.azz in the screenshot below).
Click the site row and the site detailed info will expand on the right:

On the expanded site detail info. Click the "Deactivate" red link and this will deactivate the license for that one site.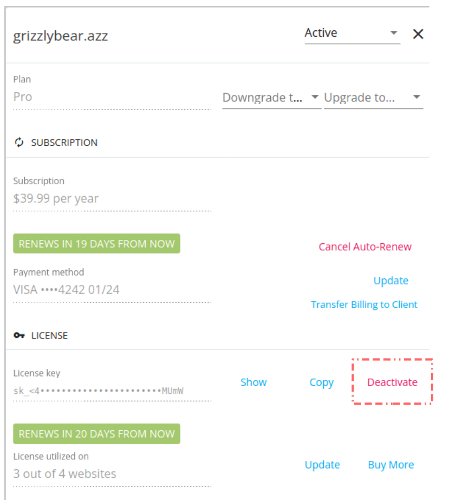 After this deactivation – this will free one usage in your license quota. E.g. if your current license activation is 3 out of 4. It will now become 2 out of 4. You can then re-use or activate this usage to your other site.
FAQ – Can I deactivate licenses inside my WordPress admin?
Of course! If you are using multisite or single site – you can easily manage licenses (activation and deactivation) via Freemius account page. You can access this page via Prime Mover PRO -> Account.

Contact us
If you are having issues deactivating licenses or freeing some license usage – please contact us and provide the email address that you have used with Freemius so we can re-check.
Was this article helpful?