Symptoms
When trying to activate Prime Mover plugin in a multisite – you will get this error: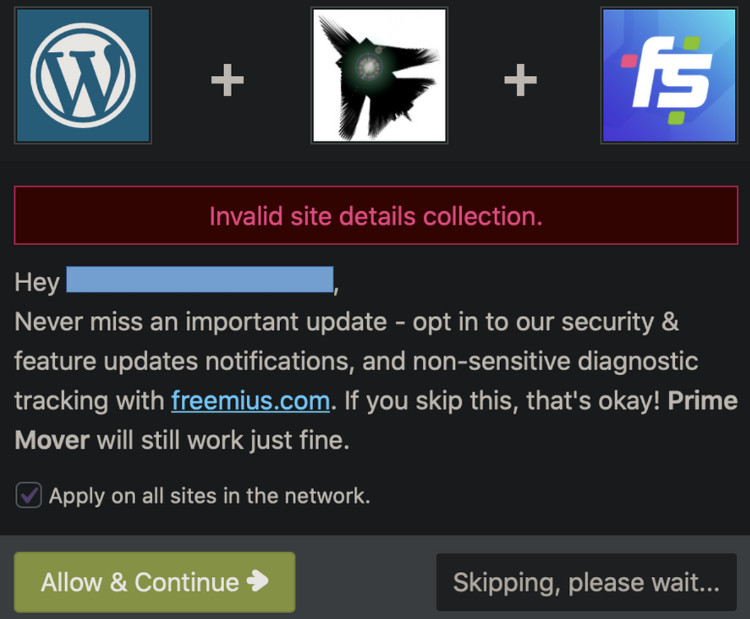 This is a Freemius SDK error and not specific to Prime Mover plugin.
Solution
Deactivate Prime Mover plugin.
After full complete reset – logout WordPress and clear your browser cache.
Check that the front end of your site works – no error.
Login again to your network admin. Make sure your network admin works and no errors found.
Make sure you are using the latest version of Prime Mover plugin version.
Go to Network admin -> Sites and make sure you see some sites on it (e.g., main site , subsites ,etc.) – > it should not be empty.
Go to Network -> Plugins and network activate Prime Mover plugin.
Proceed to activation – check that you can now successfully activate the plugin.
If the plugin activation/Freemius skipping still hangs – check your browser console for errors. If you see some CORS related errors – please refer to this tutorial.
Still having issues?
If the none of the above troubleshooting steps work – please provide the following:
WordPress network admin username and password.
WordPress site URL.
And please send it to technical support team – we will take a look at your site and why this issue still occurs.
Was this article helpful?