Hello there! It is the second time the Monster's Award is highlighting the best products in the WordPress community. For this reason, we cannot put into words how excited our team is to get a nomination in the contest. It means that our work is significant, and people view us as the winner in the "Best Backup and Migration WordPress Plugins" category. If you cast a vote for Prime Mover, we will be very grateful.
Every Vote Makes the Difference: Vote for Prime Mover Now!
Monster's Award 2022: Let Prime Mover Take the Gold in the Best Backup & Migration WordPress Plugins!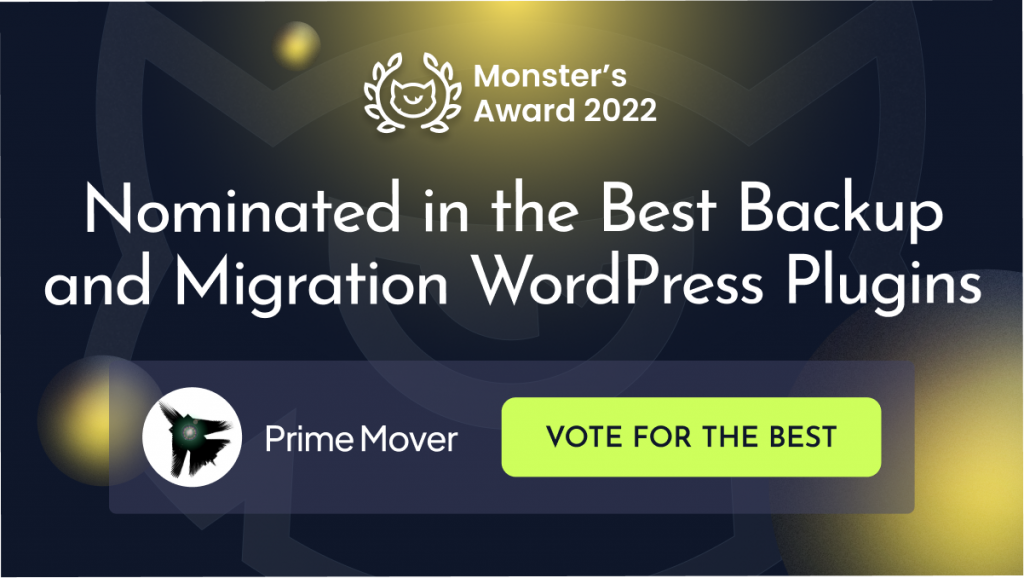 Perhaps we will exaggerate our emotions. However, it is impossible to be quiet and silent when you are nominated for Monster's Award 2022. The whole team of Prime Mover is flattered to get a nomination in this remarkable event. Now we need your support to help us outrun the competition.
Generally speaking, Monster's Award is an annual non-commercial contest that allows choosing the best brands in the WordPress sphere. After TemplateMonster had gotten positive feedback last year, the marketplace decided to turn this event into a tradition. This time, the event is devoted to all people who make the WordPress community better. These are not only web developers and their high-quality instruments but also content makers with their posts and guides.
Prime Mover is a nominee in the "Best Backup and Migration Plugin" category. What makes our instrument distinguish itself from others?
It does not have any restrictions in terms of package size, number of websites, and modes of migrations.
It is compatible with all website hosting types.
You will be ready to take advantage of the full multi-site migration functionality.
The whole migration process takes place inside the WordPress admin panel. There is no need to hire someone to do this task instead of you because everything is straightforward.
It is possible to save, download, delete, and migrate packages using a special management page.
You will not need to worry about PHP configuration and server settings. In addition to this, it does not overwrite existing sites, so you will not need to change user passwords.
Show Us That Our Efforts Matter: Vote for Prime Mover!