Scope: Prime Mover Pro
IMPORTANT : If you are using Prime Mover Pro for the first-time , please read this get started guide first.
Generate Export Package at Origin Site
In a site using Prime Mover Pro, go to Prime Mover Control Panel.
Click Go to Migration Tools button.
Click Export button. The Export Options dialog will pop-up.
Select Export database, media files, plugins and themes – this will export everything.
Checked Export Location – Export zip to this blog Prime Mover backup directory so it can be restored immediately . This will export the package zip to your defined custom backup directory, somewhere secure in your server. This is checked by default.
Checked Data Encryption – Encrypt database & media files with industry standard AES-256 encryption. This will encrypt the database and media files. This is also checked by default if supported.
Finally click Export now.
It can take time to export the entire package depending on the size of your website.
When its completed, you will see Export saved notice.
Click Copy URL to Clipboard. A confirmation dialog will show that the URL is successfully copied to clipboard. Click OK to confirm.
Restore Package at Target Site
At target site, go to Tools – Migration Tools.
Click Import button.
Select Restore backup zip from a remote URL.
In the input text box, paste the URL from the clipboard. This is how it looks like: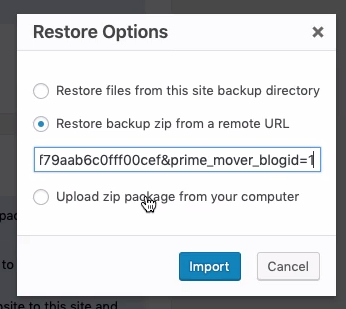 Click Import button.
Wait until you see Import is done. It will show progress to each step being processed.
Refresh the page.
Settings – Permalinks. Re-save permalinks.
Everything should be restored at this point. You can check the front end and back end of the site.
Was this article helpful?